#BIRNY #ElectoralReform -- Wouldn't it be nice if we could have more options to choose from in the general election, without having to worry about similar candidates splitting the vote between them and potentially handing the election over to something worse?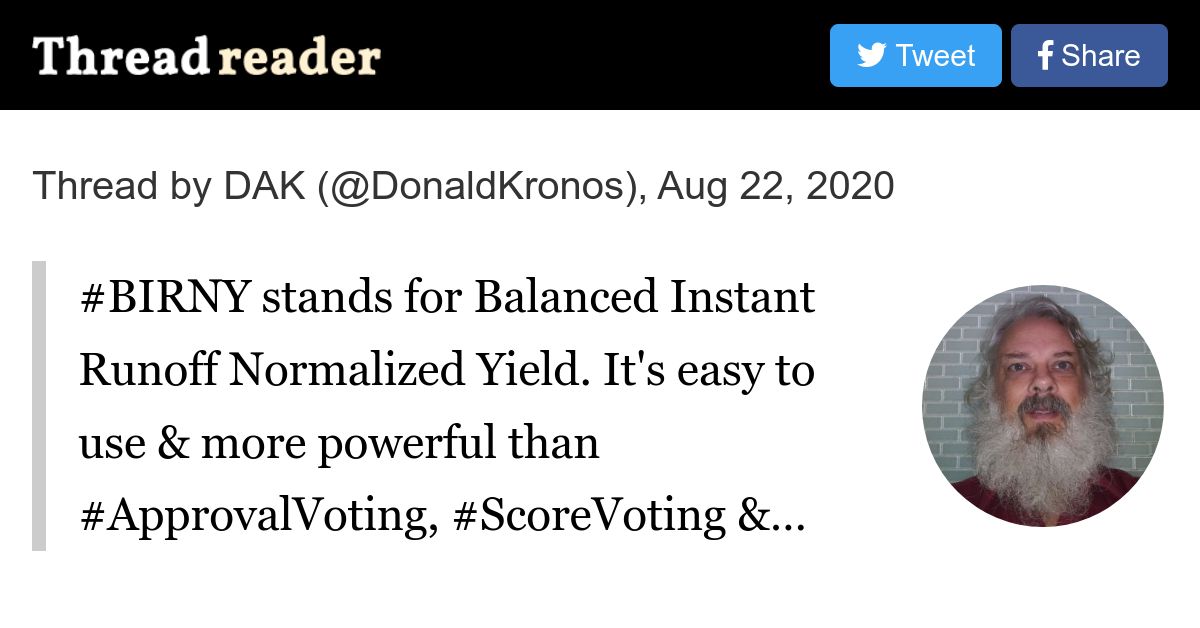 Thread by @DonaldKronos: #BIRNY stands for Balanced Instant Runoff Normalized Yield. It's easy to use & more powerful than #ApprovalVotinting & #RankedChoiceVoting, combined. #Birny also allows voting directly for or directly against any number o…
threadreaderapp.com
Introducing a powerful and versatile election system known as Balanced Instant Runoff Normalized Yield, or BIRNY for short.
With a BIRNY election, you could vote for ALL of the good candidates, instead of having to pick just one, and you could even opt to cast a vote directly against what you see as the absolute worst candidate, but your vote would never increase or decrease the relative chances of one candidate you didn't vote for or against beating any other candidate that you also didn't vote for or against, and your vote for the candidate you see as best would never increase the chances of the greater evil beating the lesser evil in the unlikely event that the final contest were to come down to a pair of candidates that you could honestly describe as such.
The BIRNY system can also allow voters to choose a familiar ballot style that would be computationally translated on their behalf into the native ballot of the BRINY election. So if you like score voting or approval voting or ranked choice voting, or even if you actually like first past the post voting, you could opt for a familiar ballot from such a system and get all of the benefits of that system with none of its disadvantages. Together, if we work at spreading the word, we could make such a system available to voters everywhere.
#NotMeUS #PassItOn #BIRNY